This is dog training for puppies and older dogs found online in the form of videos. The creator of this training product, Daniel Abdelnoor is affectionately referred to as Doggy Dan and he has been in business since 2006.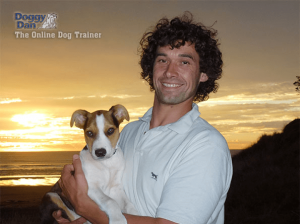 Website https://theonlinedogtrainer.com
Sign Up Price: $1.00 for 3 days
Price: $37.00 per month; 6 mo for $147
Owner Daniel Abdelnoor affectionately known as Doggy Dan
Overall Rank: 99 out of 100
Doggy Dan's Background
• Lives in Auckland, New Zealand
• Married with kids
• Qualified Dog Listener Basic and Advanced certificates
• Dog Behaviourist
• Dog & Puppy Trainer
• Courses in Canine Behaviour & Psychology
• Courses in Advanced Aggression
• Active member of Association of Pet Dog Trainers(APDT)
• Highly acclaimed author
• Animal Rights Activist
• Media Personality
He has successfully trained over 1000 puppies and dogs one on one plus countless more in groups. He is so well respected by the Royal New Zealand SPCA that they use his website to help train their staff.
So now that we know a bit about the fella behind Online Dog Trainer what is it all about?
The Online Dog Trainer covers all kinds of dog training related topics such as:
• Pulling on the leash
• Jumping on people
• Not coming when called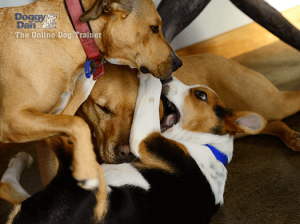 • Aggression
• Potty training issues
• Digging
• Chewing
• Separation Anxiety
• Barking
• Eating poop
• Excessive licking
• etc
Training Methods
The Online Dog Trainer only uses a kind and gentle approach when it comes to training puppies and dogs. His training is broken down into various sections.
Section One – This section teaches you "How To Be The Pack Leader".  This is the foundation for the rest of the training.  Learn this and the rest of the training will be so much easier.
Section Two – This section deals with the Tools and Techniques that you will be using every day when you are training your puppy or dog.
Section Three –  Deals with Puppy Training with the focus being on socializing your puppy, behavioural issues common to puppies and learning commands.
Section Four – this section is very unique indeed. It is called Project Moses Video Diary. It follows the training of Doggy Dan's eight week old puppy Moses up until he is a year old. You get to watch as Doggy Dan trains his own puppy.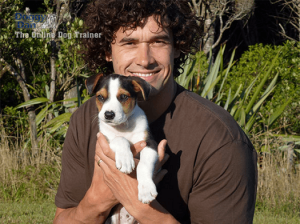 Section Five -although you may want to jump to this section first thing Doggy Dan recommends learning at least how to be the pack leader first.  This section deals with dog problems. Any behavioural issues you can think of are covered in this section.
Section Six – This section deals with dog training. This is where you will start to connect with your dog. By following the tips given to you by Doggy Dan you will start to see your once misbehaving dog now become a good canine citizen.
All of the training found on Doggy Dan's site is done through video. There are over 250 videos on the site. There is also a forum where you can communicate with Doggy Dan and members of his team. If you are having a problem with your dog then they can help you find a solution.
Doggy Dan continues to make videos of himself training various dogs which you will also have access to.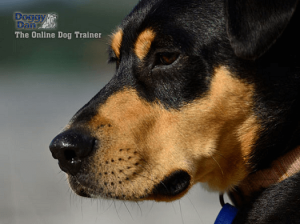 You get all this plus more for $37.00 per month. If you are unsure you can take a look around for 3 days for just $1.00. If you like what you see do nothing and the monthly payments will kick in. If you do not wish to join at this time then make sure you cancel before the 3 days is up.
Online Dog Trainer Review – What I Liked
When researching this product you come across a lot of satisfied customers so this leaves me with the impression that Doggy Dan is the real deal. Another thing I really like about this product is Doggy Dan himself. I have to admit it but I am a sucker when it comes to an accent and I love the way he talks. I could listen to that voice all day long. It is a very clear distinct voice that I find has a somewhat calming effect. However I'm not the only one that loves that voice.  The dogs seem to fall under his spell as well which is obvious from watching the videos. In all his videos not once do you hear him raise his voice and shout at the dogs he is training. This is quite the opposite to some other training videos I have watched.
The other things that I liked about The Online Dog Trainer is the amount of content found on this site.  You have all the videos over 250 of them, you also have audio files which are great to listen to after you have watched the videos and you also have the Moses project.  Moses is Doggy Dan's dog who he has raised from 8 weeks of age and has filmed the journey of his training and shared it with us.
Online Dog Trainer Review – What I Didn't Like
The only thing that I am not keen on is the monthly fee. I would prefer just a onetime fee. I can understand though why he does have this set up as a membership site. He is constantly updating the videos plus the forum is an active part of the membership.  Doggy Dan is also an active member of the forum so you do have access to him.
Overall Thoughts
Overall I think The Online Dog Trainer is a great product and well worth the money – yes even the monthly membership fee.  Dan offers so much content through his many videos and ongoing support through the forum.  You can see that he truly is passionate about what he does and if your dog needs help Doggy Dan is the guy that can help.
The endorsement from the New Zealand SPCA speaks volumes as to just how dedicated he is to helping dogs and their owners.  If you need help with learning how to train your dog this is definitely the product for you.
I definitely would recommend Doggy Dan's Online Training to anyone who has just gotten a puppy or has an older dog that needs some training. Also for any one that is having some behavioural issues with their dog I would definitely recommend Doggy Dan.  If you would like to take a peek at Doggy Dan's site watch the following.
Share This: