​​The best way to potty train a puppy and help him learn good bathroom habits, is to use a crate.  Dogs don't like using the bathroom near where they sleep or spend much time, so take advantage of this natural preference of dogs and teach them at a very young age to use the bathroom outside or in a desired area.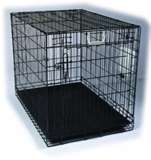 Dog training is an activity that needs to be done frequently. Therefore when trying to potty train your new puppy you need to be repetitive. When trying to get your puppy to eliminate you need to be saying the command word that you have picked out. This will help the puppy learn what is expected of him.
Most people use the words "Go Potty" when trying to potty train their new puppy. Also when you are asking your puppy to Go Potty you need to say it with an upbeat tone and great enthusiasm. Puppies do respond to the tone of your voice.
Be aware that you are not going to have a perfectly trained puppy overnight. Teaching your puppy new behaviours can be a lengthy process that will involve success and setbacks. Training a puppy requires that you have a lot of patience.
Potty training your puppy is a bit different than other training you will be doing with your puppy.
We mentioned at the beginning of the article that the best way to potty train a puppy was to use a crate. So how do you use a crate?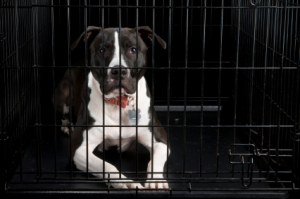 First you need to buy the right size crate. If you have a large breed puppy buy a crate that he can use when he is full grown. For now you can block off part of the crate to an appropriate size for a puppy.
The first thing you need to realize is that the crate is not to be used for punishment purposes. The crate is a very effective tool if used properly to help potty train your puppy.
Now you need to introduce your puppy to the crate. Maybe put one of his favourite toys in the crate and see if he will go in and play with the toy. If he does go in leave the door open and just let him get used to the crate.
After he has become used to the crate the next time you put him in you will be closing the door. He may not like it and start acting up but you need to ignore him. Only let him out when he has calmed down.
Since you usually do not bring a puppy home until they are at least 8 weeks old, then your puppy should, at 8 weeks, be able to hold it for about 2 to 3 hours. This means you will be getting up at night to let them out to go pee.
Do not leave a water dish in their crate or they will need to eliminate even more. When it is time for your puppy to go out to relieve himself you need to put a leash on him and take them out. If he is small enough to carry that would be a great idea since he may try to eliminate while you are trying to get him outside.
Once outside encourage your puppy to relieve himself. If he goes praise! praise! praise! This is very important as puppies will respond to the tone of your voice. If your puppy does not go after 5 minutes return him to the crate. Wait about 10 to 15 minutes and take him out again. Keep doing this until he goes and you praise him.
After he has had a successful mission give him so out time but keep a very close eye on him. Young puppies sleep a lot so if you play with him it will tire him out. When he is getting tired it is time to go back in the crate.
In order to help with the potty training it is a good idea to keep notes as to what time he ate or drank. When was the last time he relieved himself. You need to establish a routine. Nothing a dog likes any better than a routine.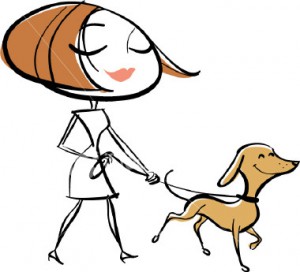 Since your puppy is still growing he needs exercise but it needs to be moderate. Instead of taking him out for a long walk it would be better to take him out on a couple of much shorter walks. He needs to build up to this – after all he is still a baby.
Daily exercise also shows your puppy that he is a member of the family, as well as letting him know you are a strong leader. Exercise encourages his confidence and provides you with wonderful bonding opportunities.  For more help and information on the best way to potty train a puppy check out Secrets To Dog Training Review!
Share This: