The Beagle
Although beagle-type dogs have existed for over 2,000 years, the modern beagle dog breed was developed in Britain around the 1830s from several breeds. It is believed that the Beagle breed was developed from other scent hounds including the Talbot Hound, North Country Beagle and other English hounds. Beagles were bred as scent hounds, and were used in packs in England to track the scent of foxes, hare, rabbit and other wild animals.
Beagles became more refined and widely recognized in North America by the late 19th century, eventually becoming one of the most popular breeds. They were recognized by the American Kennel Club in 1885.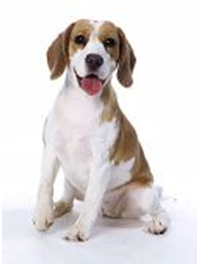 Beagle dogs are small hounds with a sturdy frame, and sleek orange, black and white hair. They have a short, dense, weatherproof coat which requires very little grooming. Beagle dogs are characterized by their round feet and large soft ears.
He is normally around 13 to 15 inches high and weighs between 20 and 25 pounds when fully grown. The beagle is often compared to a Foxhound due to its similarity in size and nature but they do have broader heads and shorter legs than their cousins. They have drop ears which makes Beagles prone to ear infections. Beagles' eyes are brown or hazel in color and have a distinctive expression. Beagles almost always have white tipped tails – a characteristic that developed so hunters were able to spot the dog when they're hunting in tall grass.
The Beagle is good with children but will harass the family cat any chance it can. They are a good family pet because of their size and their even temper. Beagles do not like to be left alone so if you are gone for long hours either this breed is not for you or get another dog as a companion. Beagles are mischievous by nature and need plenty of attention.
Beagles need early consistent obedience training due to their stubbornness and the ease of being distracted.  It is not a good idea to allow your beagle off a leash. He will pick up a scent and follow it. He then has what one would call selective hearing. He is not going to come when you call him and he will follow the scent to wherever it takes him.
Beagles are not fussy eaters. They will eat anything. You need to be careful as to what you feed them because they can easily become overweight and then develop some health issues. They do need a lot of exercise and when walking it is a good idea to maintain a brisk pace or else they will be constantly sniffing. Also do not leave them outside by themselves for too long even if your yard is fenced. A bored beagle will bay and howl which your neighbours are not going to like and dig holes which you are not going to like.
Today's beagle because of their intelligence and their nose are used for various detection roles such as drugs, explosives and even termite inspections.
If you have the patience to obedience train and take this dog for long walks and are going to be home a lot then the beagle would make a good pet.