In order to know how to deal with separation anxiety in dogs we first need to know what it is and what causes it.
It is surprising how many dogs actual suffer from separation anxiety.  Research shows that between 10 – 14% of puppies and dogs suffer from separation anxiety.
What Is It?
Simply put separation anxiety is when your dog gets upset when you leave – he misses you.  Well that doesn't seem to be a major problem does it.  In itself it isn't.  It becomes a problem when your dog or puppy display unwanted behaviour because of the anxiety.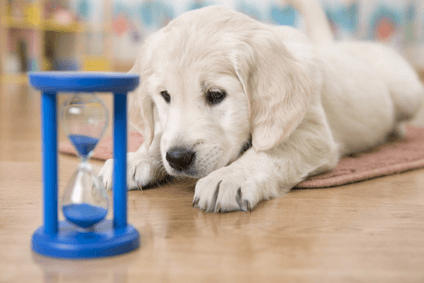 Unwanted Behaviour
Most dogs are perfectly well behaved when you are home with them but as soon as you leave bad things start to happen.
Dogs will chew things that they would never touch if you were home.  Your dog is upset and is trying to calm himself so by chewing he is releasing an endorphin to help him stay calm.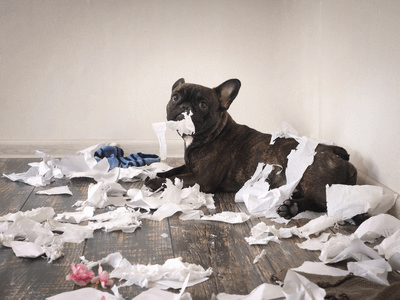 Soon as you leave your house your normally quiet dog will start to bark and whine.  This is your dog's way of trying to communicate with you that it is time to come home – back to the pack.
Some dogs have been known to go right through a window in an attempt to look for their owner.  An escaped dog can often appear dangerous to anyone who comes in contact with him and also the dog running loose is himself in danger of many things, traffic being a big one.  All he is really doing is looking for his owner.
Other behaviour that is associated with separation anxiety is digging, self mutilation such as excessive licking and chewing at themselves.  Drooling excessively is also a stress related behaviour which can often be mistaken for a medical issue.
Another common behaviour that is an indication of separation anxiety is when your totally housebroken dog starts to mess in the house when you are away.
So we know what the symptoms of separation anxiety are and truthfully they are not behaviours that we want our dogs to be doing.  In fact many dog owners, not knowing what is really going on, or unable to cope with the unwanted behaviour, will often surrender their dog to a shelter.  
Causes of Separation Anxiety
No one can say specifically what causes separation anxiety in their dogs but because of certain circumstances conclusions as to why have been reached.
Since dogs from shelters seem to suffer more from separation anxiety than a dog that has been raised in one family from a puppy it is natural to assume that the anxiety is coming from the puppy losing an important person or persons in his life.
Other events such as the following, can also trigger separation anxiety:
Change of family

Change of schedule

Moving

Change in members of the house
Change of family may be the biggest trigger for symptoms of separation anxiety to arise.  The dog may be surrendered to the shelter for whatever reason or the dog may just be given to another family.
Dogs like a routine, in fact most animals like a routine.  The biggest routine change that would be upsetting to your dog is how long you are home with them.  If for some reason you have not been working for a long time and now you start a job that takes you out of the house for 7 to 8 hours, this is a big adjustment for your dog.  He may start to chew, bark and even mess in the house.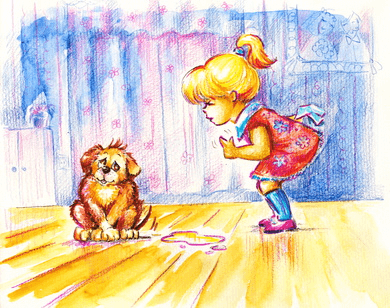 As I said earlier animals like a routine and they like to have things in the same place.  Trying moving their water bowl and watch what happens.  So if you decide to move then everything is different.  Usually with time your dog will adjust to the change without too much trouble.
The last trigger that we will look at is similar to the first.  Sometimes people in a family move away like kids going to college or sometimes someone in the family dies and this could be another pet.  This can definitely trigger separation anxiety.  
I remember when one of our dogs died the other dog wandered around for days with her tennis ball in his mouth.  He was never allowed to have the tennis ball because he would tear them apart.  He carried her ball around for days and never even put so much as a tooth mark on it.
So how do we help our dogs deal with separation anxiety?
When dealing with separation anxiety many dog owners end up just treating the symptoms.  For example if your dog is chewing on stuff every time you go out then you start training him to chew on appropriate toys and make sure he has plenty of them when you go out.  When you come home he has chewed on the toys and left everything else alone.  Problem solved.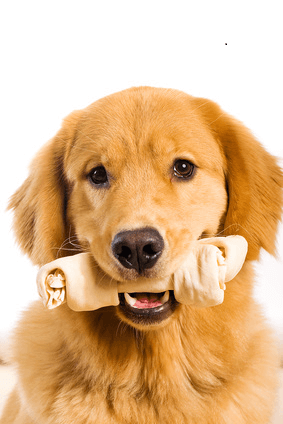 Not really, the symptom has been dealt with but the problem is still there – he is still suffering from the anxiety.
So in order to truly deal with your dog's anxiety you need to treat the real problem.  You need to take over your pack.  Yes YOUR PACK!  
All these symptoms that your dog is exhibiting is from a dog who thinks they are in charge.  The leader of the pack can come and go as they please without the other pack members getting upset.
If the pack leader decides to go to a better hunting ground the rest follow without anyone complaining.  The pack leader does what he wants and he looks after the pack.
By you taking your rightful position as leader your dog will be much more relaxed.
Now that you know what the true problem is it is time to learn how to be the pack leader and put an end to your dog's anxiety.
The best place to learn how to become the pack leader is at the Online Dog Trainer.  Doggy Dan runs a video based website where you can learn how to deal with separation anxiety in dogs by becoming the Pack Leader.
Don't let your dog become the following statistic –  "The single greatest cause of death in dogs under one year of age is not Parvo, it's not Distemper, it is lack of obedience training and 93% of training and behaviour problems can be solved using a series of simple dog training techniques."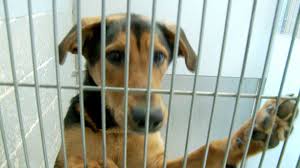 Share This: