Puppy and Dog Training
If you have just gotten your first puppy or first dog they do need training. If you are an experienced dog owner than you know training a puppy versus training a dog is quite different.
A puppy is like a very young child. They have not developed any bad habits so you are working with a very clean slate.  Does that make them easier to train?  Well that would depend on how consistent you are and how patient you are.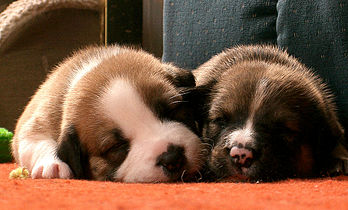 Puppies basically know nothing.  They do not know where to go potty, what they can chew, what they should eat and who the boss is.  They need to learn all of this so they can grow up to be a good canine citizen.
Training a puppy begins right from the time you pick them up. When you pick up your puppy you should bring him/her home in a crate especially if you are the only one picking up the puppy. Puppies can be quite curious and at this young age have no fear. If they decide to explore the vehicle when you are driving they could get into a number of things that may not have a good outcome.  With puppies always expect the unexpected.
Now if on the other hand you have decided to get an older more mature dog although they may have had some training they will still need more training.
Many dogs that end up in the shelter are there because of behavioural issues.  Most times it is not the dog's fault. Usually a person just doesn't put the time into the puppy and all of a sudden it is a mature dog that really has had no proper guidance.  It may not be housebroken, it may not know how to properly walk on a leash and it may be aggressive because it thinks it is the alpha.
We adopted from the shelter in 2013 when our male dobie died.  Her name is Olive and she is a shepherd lab cross. She was adopted when she was 3 months old and then returned 3 months later. She was 7 months old when we adopted her.  According to her previous adopter she used the house as a toilet and she barked all day and she was very hyper.
At this time we still had our female dobie and we got Olive so our dobie could have a companion.
Olive did mess in the house twice when we first got her.  The first time I was not picking up on what she wanted and the second time her and the dobie were running like crazy and poop came flying out of her.
She did have a lot of energy when we first brought her home so lots of walks and play have settled her down.  She has turned into a wonderful pet.
Olive is an example of a dog who's owner does not invest the time into training and caring for the puppy.  We had the advantage of both being home all day so to us her training became part of a daily ritual.  Nothing a dog loves any better than routine and someone else making all the decisions.
Adopting an older dog may have its challenges but in the long run it can be well worth it.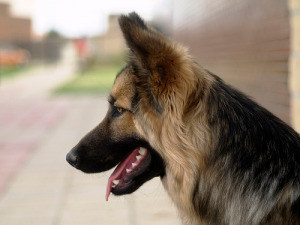 So whether you want an older dog or a puppy both will need some type of training.  They need a commitment from you that you will take care of them and remember dogs and puppies are for life they are not disposable property.