Is it really necessary to learn how to stop your puppy from jumping up?  Definitely!  Right now your puppy is not that big but if he is a large breed dog and you do not correct this behaviour now when he is full grown he could actually hurt you or someone else.
Puppies jump up on us for a variety of reasons.  The main reason is for attention.  They are curious by nature and they do explore by scent.  Since they are so small for now they need to jump up to investigate you better.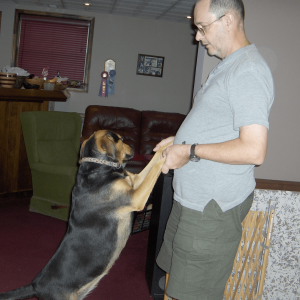 Some people believe that the puppy is just happy to see them when they display this behaviour.  They may be happy to see you but that is not why they are jumping all over you.
If this behaviour is not corrected at an early age the jumping up could take on a more dominant overtone and you definitely do not want that.
So if your puppy is looking for attention then it seems logical that when they jump up on you and you give them attention you are just reinforcing the bad behaviour.  Therefore you need to ignore your dog when they display this bad behaviour.  When they jump on you, you need to turn your back on your puppy and walk away and totally ignore them.  Cesar says it best, "No Touch, No Talk, No Eye Contact".
After your puppy settles down, then you can try it again.  Call your puppy and if the same behaviour is again displayed some trainers recommend that you totally isolate your puppy.  You can do this by leaving the room or putting your puppy in another room, hopefully one that is puppy proof.
Another problem arises when your puppy displays this behaviour towards people who come over to your house.  The problem is actually two-fold.  First you have the puppy's behaviour and then you have your visitors behaviour.  Some of your visitors will ignore your instructions thinking that this behaviour is just so cute and they will eventually grow out of it.  You really need to emphasize the importance of what you are asking your visitors to do.
One thing that you can do to have more control over your puppy when guests do come over is to have your puppy on a lead.  Keep a hold of your puppy until he relaxes and then you can let him go.  Leave the leash on him in case you need to get him under control again.
If your puppy continues to jump over your visitors then it is best to put him into another room or a crate.  Again make sure the room is puppy proof.
Another time when a jumping puppy is not a good thing is when you are getting ready to go for a walk.  As soon as your puppy sees the leash they are all over you.  You struggle to get the collar and the leash on your exuberant puppy.  This is not fun.
If this is what your puppy is doing it is best to put the leash down and wait until the puppy settles down.  Never try and walk your puppy when you are in a hurry.  It may take some time for your puppy to settle down and you do not want to rush this.
After he has settled down try it again.  Keep doing this until he gets it.  It may take some time but it will be well worth it.
During all of this you need to remain calm with your puppy.  It is best not to speak while doing this.
This kind of behaviour is not your puppy saying I love you, it is your puppy trying to get attention.  If they did this in the wild their mother would have given them a nip by now.  Obviously you are not going to nip your puppy so you need to get your message across differently.
Although your puppy is seeking attention he is also invading your space.  If you continue to allow this behaviour your puppy will lose all respect for you and will walk all over you.
So what if your puppy loses respect for you, you ask.  What difference is that going to make?  It could have some dire consequences later as your puppy matures.  If you can't handle getting your puppy ready for a walk how are you going to manage a full grown dog?  If your puppy doesn't respect you how will you get it to listen to anything you say?
If you want a well socialized dog and a well trained dog you need to start when they are a puppy.  It will be so much easier to prevent these behaviours now then when they are full grown.
There is another training method that many trainers use that helps greatly with the jumping issue.  They will teach the puppy to sit.  They train the puppy to sit for food, for when someone comes to the door, before getting a leash on, etc.  You name it the puppy is taught to sit and when a situation arises where you think the puppy may jump you simply tell him to sit.  This training method works well for many dog owners.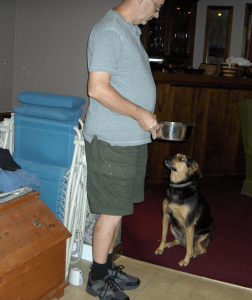 As with any training there are common errors that owners make.  The first common mistake is not being consistent.  By not being consistent you are sending your puppy mixed signals and they will get confused as to what is expected of them.
The second common mistake that many dog owners make is making eye contact with your dog when you are suppose to be ignoring them.  It may not seem like anything significant but by making eye contact you are actually inviting your dog over to you.  Again you are sending mixed signals.
If this is your very first puppy all of this may be a bit overwhelming.  There is a lot to learn if you want to raise your puppy up to be a good canine companion.  Many people look to dog trainers to help them with their puppy and dogs.
One place that offers a great deal of valuable information on puppy training and dog training is The Online Dog Trainer.  At The Online Dog Trainer, Doggy Dan offers you all the information you need to raise your puppy through the use of video.
 Check out The Online Dog Trainer Now!
Share This: