One of the things that dog owners need to learn quickly is how to use dog nail clippers. Learning this when the puppy is very young will make the world of difference in the future.
Clipping your dog's nails on a regular basis is a chore that many dog owners overlook. They may overlook this chore because they just don't think about it or they are afraid of doing this.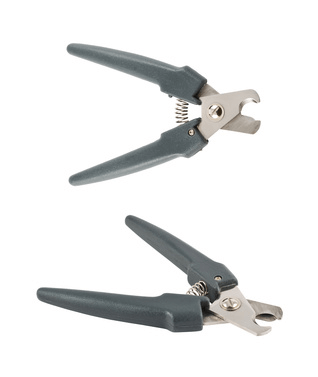 The biggest challenge that comes with learning how to use dog nail clippers is where to actually cut the nail. Now if you are lucky enough to own a dog that has whitish nails then you can see where you can cut back to.
Structure of a Dog's Nail
I guess before I go any further I should explain something about a dog's nail. A dog's nail is made up of a hard outer shell and this protects the blood vessels and nerves, commonly referred to as the quick. When you are trimming your dog's nails and you cut too much off you risk cutting into the quick which will cause bleeding and more importantly will hurt your dog. Not only will it hurt your dog but he will be a lot less trusting in the future when he sees you coming will the dreaded nail clippers.
The best way to get your dog used to the nail clippers is to start using them at a very young age. At this stage just clip the tip off – don't worry about having super short nails. Do this once a week and your puppy will get use to the feel of the nail clippers.
Now as I mentioned earlier if you have a dog with whitish nails then you can actually see the quick in the nail so you know where to cut. Not so with a dog who's nails are black. For this reason you are better off trimming just the point of the nail off and also since you are not taking off that much trim the nails more often.
You can tell where the quick is on a black nail by the colour of the center of the nail. As you get closer to the quick it will become a fleshy white to gray colour.
Every time you clip a dog's nails the quick goes back a bit. So if your dog has long overgrown nails you cannot just cut them back you need to take a bit at a time to work the quick back. Doing this may take some time but is worth the effort.
How can you tell when your dog's nails are too long. Do you hear that clicking as your dog walks along on the floor? That is a good indicator that your dog's nails are in need of a trim.
When you are learning how to use dog nail clippers you will find the best way is to hold the clippers in your dominant hand. If your right handed hold them in your right hand, if your left handed hold them in your left hand. Hold your dog's paw gently but firmly with your other hand. For best control your thumb should be on the dog's pad and your fingers should be on top of the foot. Once you line up the nail trimmers clip the nail. Try to do this when the dog is not moving. I know easier said than done.
As your dog gets use to the clippers he will remain calm and still. This will take some time and patience and hopefully no setbacks by accidentally cutting into the quick.
Now some people prefer to cut their dog's nails when the dog is standing, others prefer the dog to be laying down. Usually the dog will dictate how they want their nails cut.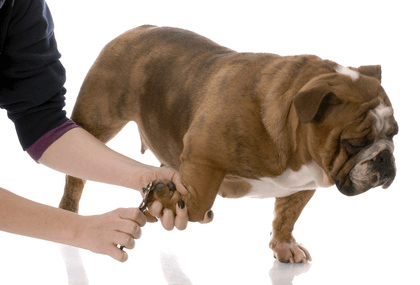 The dog we have now we got from the pound. Before we picked her up they did clip her nails but they told us it was quite a battle. She was 7 months old at this point. The first time we clipped her nails(my husband and I usually do them together) we had her laying down. She tried to bite so we had to muzzle her. It was battle royale. It took quite awhile but we finally got her nails clipped.
Next time when we clipped we decided to stand her up. She still didn't like it but she was much better. Now if my husband is not around I am able to clip her nails by myself. It took awhile but it was well worth it.
Some people will use a grinder to trim their dog's nails. We did that with our last two dogs. They were both Dobermans and the breeder actually started grinding their nails before we picked them up at 8 weeks old. We never had any issues with them.
Before you go to clip your dog's nails it is a good idea to take a good look at their feet. You never know what you might find. I once found a small lump between the toes. Turned out to be a cancerous lump. It was caught so early that it was removed without incident.
Trimming your dog's nail is just one small thing that you can do to keep your dog healthy.  To find out other things that you can do to keep your dog healthy check out Kingdom of Pets Ultimate Guide To Dog Health.
Share This: