For many of us who have owned a dog or who now have a dog what we fed our dog was never a big issue. We fed them puppy food until about a year old then we switched to adult food until they were around 7 and then we switched them to senior food. Now in the past years a new diet has come about and that is the raw food diet for dogs.
What is a Raw Diet?
A raw food diet for dogs is basically that raw food for your dog. Raw meats like chicken, duck, beaver etc. are mixed with bones, organs , fruits and vegetables. Many dog owners believe this is what dogs ate at one time when they were in the wild and they feel this diet is beneficial for them. Since this was their diet at one time most animal owners who support this type of diet believe feeding raw is just a more natural food source for their dog.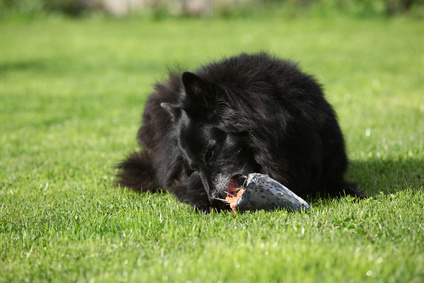 There are two types of raw diets that owners are feeding their pets. One diet is referred to as the Prey Model Diet and the other is called BARF Diet.
Prey Model Diet
– This diet is a representation of what our pets namely dogs and cats have been eating in the wild for thousands of years. People who support this type of diet believe that even though our pets have been domesticated for many years that they are still by nature designed for this type of diet where they eat whole prey. By whole prey they mean just that the whole animal. A prey animal consists of organs, bones, muscle meat, skin, hide/feathers, fat and other tissues. Animals that hunt in a pack will hunt larger game such as deer bison etc while a lone hunter will go after smaller prey such as squirrels, rabbits, birds, fish etc.   All of these prey animals would be ideal in your pet's diet.
However since we really cannot go out and hunt this prey for our pets or let them hunt their own dinner this diet depends on food that is usually raised for human consumption. Variety becomes an important factor in the prey raw diet since livestock raised commercially usually does not contain the variety or concentration of nutrients required for our pets.
It is also worth mentioning that this diet does not include any vegetables, fruit or dairy.
BARF (Biologically Appropriate Raw Foods) Diet
– This diet recommends that the meat and vegetables be ground up. Also supplements are recommended when following this diet regime since as stated before, livestock raised for human consumption lack essential nutrients such as Omega 3 fatty acids.
Benefits of Raw Food Diet For Dogs
While researching to find out what benefits there are if any in feeding your dog a raw diet I found many compelling stories of owners and their dogs.
Some of the benefits that owners noticed were their dog had firmer stools, their digestion improved, allergy symptoms were greatly reduced if not gone altogether, weight was more manageable and their skin and coat were much healthier. Also dogs that were suffering from chronic illnesses did see an improvement in their health.
Dogs who were on the Prey Model diet saw a great improvement in their oral health. Eating raw meaty bones actually scrubs massages and flosses a dog's teeth. Gums and teeth were much cleaner and healthier after switching to a raw diet. Also many owners noticed no more doggie breath. So we see that there seems to be many benefits to feeding your pet a raw diet but is there any drawbacks to this diet?
What Harm If Any Is There In Feeding A Raw Diet To Your Dog
Surprisingly many veterinarians are among the anti raw group. They claim feeding your dog a raw diet can be quite risky. Many veterinarians contend that a raw diet is just not nutritionally balanced. They state that the raw diet being fed to your dog is lacking in necessary nutrition for your dog's health. Many anti raw people believe the raw diet can be contaminated with disease causing bacteria such as salmonella and listeria. This can then end up in the dog's stools which can then infect the environment. People that live with the dog can actually become infected.
Other pathogens found in fish, beef, pork and wild game can make your dog sick or worse.
Bones are another risk. Bones can cause choking, intestinal blockage and/or perforations. Also a dog could possible chip or break one of its teeth.
Other factors that may sway you to stay away from raw is the inconvenience of it if you travel. If you take your dog most hotels and motels are not equipped to store your raw food and if you board your dog you are going to be paying top dollar in order to store your dog's diet at the kennel.
As far as the cost of a raw food diet for your dog from what I could find out it does depend on whether you follow the BARF plan or the Prey Plan. Since you are preparing the Prey plan yourself you have more control over the cost of the ingredients that you use.
When you compare raw to commercial kibble I would have to say the kibble would be cheaper.
One thing for certain is that if you are going to change your dog over to a raw diet be prepared to do a lot of research. It might be a good idea to check with your vet or with a dog nutritionist. Feeding raw is much more than measuring out a cup of kibble.
There are a couple of sites that will help you build a diet for your dog. One that you can start for free at is BalanceIt.com and the other you need to pay for PetDiets.com
So for all the years that I have had dogs I have never fed my dogs raw. I would like to hear from anyone who has experience with this type of diet.
Also to learn more about your dog and other health issues head over to Secrets To Dog Training.
Share This: