One of the first things you try and teach your new puppy is to not go potty in the house. While teaching your puppy to go potty outside it is best to have them on a leash. So although you may not start training a puppy to walk on a leash you are going to have to get your puppy used to being on a leash.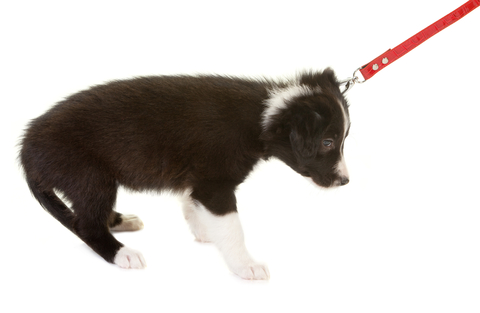 Keep in mind that a puppy is very young and although they have spurts of energy they do tend to sleep a lot. He does not have the strength or the stamina to be going on long walks.
Puppies at this very young age do not have any bad habits but they also do not know what is expected of them. To be at the end of a leash may feel very strange to them so it is going to take some time for them to get used to the leash. You do not want to be pulling or dragging them along when they are on a leash. At one time this would have been an acceptable way of training your puppy to walk on a leash, today we like to take a more gentle approach.
Choosing The Appropriate Collar and Leash
Before putting a leash on your puppy make sure that you have an appropriate collar and leash. At this young age a light weighted collar and a light weighted leash would be best. Some puppies are fearless so having a collar on them is no big deal. Other puppies are much more sensitive and putting a collar on them may cause them to react badly. They may start scratching to get it off or they may start yelping in fear. Engage your puppy in some sort of activity that will take his mind off the collar. Makes sure the collar is snug but not tight.
Attaching The Leash
So the idea now when trying to introduce the leash is to get your puppy to associate the leash with good things. So putting the leash on and dragging your puppy until he walks is not a good idea. After attaching the leash take your puppy outside hopefully in a fenced secured area. Engage in some play activity such as throwing a ball and just let the leash drag. Make sure the leash does not get tangled up.
As your puppy relaxes pick up the leash occasionally and call him. When he comes reward and praise.
If your puppy decides not to come to you and just sits there you really need to encourage him by possibly using treats or his favourite toy. You need to be extremely patience. In time your patience and persistence will pay off and your puppy will accept the collar and leash.
As he grows to accept the collar and leash and as he matures enough to go on a walk then you can start training a puppy to walk on a leash. To learn more about training a puppy to walk on a leash check out the video below.
To learn more about Doggy Dan's Training Click on the following
Share This: