Potty training a new puppy can be a bit of a challenge at the best of times but during the winter you are faced with many more obstacles for this task. So just keep in mind when you are potty training a puppy in the winter you are going to be faced with a few more challenges.
First thing you are going to need is some warm clothes for you and your puppy. You can get winter coats for your puppy and also some booties. There are a wide variety of coats that you can purchase but I would try to get a coat that you can get on and off quickly and easily. Also I would invest in the booties for your puppy. They will prevent snow and ice from getting on his/her paws and freezing. There could also be some type of foreign object hidden in the snow that the boots may protect him from.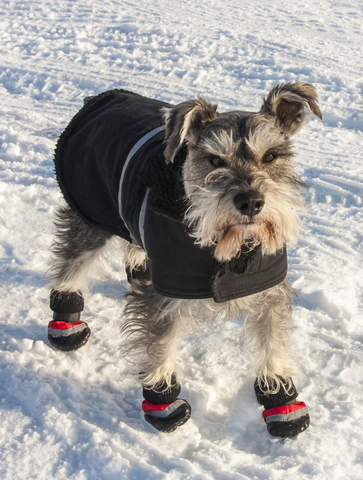 Potty training a puppy in the winter also requires you to be more vigilant. Things that can be easily spotted in the summer may be hidden in the snow. Keep an eye out for things like spilled anti-freeze as just a small amount can cause death. Make sure you check the potty area for any sharp objects that could possibly cut your puppy's paw.
If you have a lot of snow you may want to shovel an area out for the puppy. In the past we often cleared paths in the backyard for our dogs using the snowblower. Our one dog who has since passed did not like to get anything on her paws and the dog we have now likes to plow into the deepest snow possible to go pee. The look on her face when she is going is priceless.
So the next step to potty training a puppy in the winter is to get yourself bundled up and your puppy bundled up. Make sure you have a leash on your puppy when you take him/her out to go potty. Since your puppy will probably not like the cold all that much he may not want to go potty. If you see him shivering take him in to warm him up. Do not remove the leash. When he has warmed up take him out again. Keep doing this until he goes. There will come a time that your puppy will realize that the sooner he goes potty the sooner he gets back inside a nice warm house.
Always remember when your puppy does go potty you need to praise him very enthusiastically!
If you decide to take your puppy for a walk in order to get him to go potty make sure he does have his boots on. One of the hazards of winter is the salt and chemicals used on the roads to melt ice. I am sure you have noticed what it can do to your boots. Imagine what it can do to your puppy's feet. It could actually burn them. If your puppy is not wearing boots then make sure to wash off his feet when you get home from your walk.
Also there are products available that you can put on your puppy or dog's feet that will protect them from the salt and chemicals.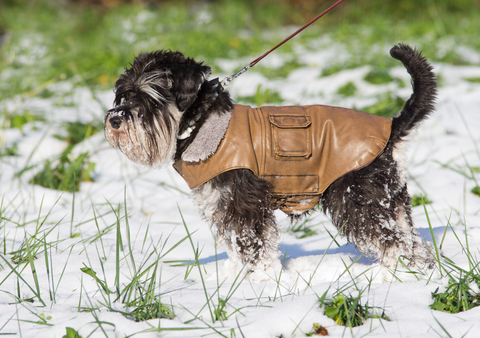 If we for some reason you are going to be out in the cold for a long period of time you should not have a metal type collar on your puppy. The metal in the collar attracts the cold and can actually burn your puppy's neck.
So potty training a puppy in the winter does have its own set of challenges so remember be consistent and be patient and good luck with potty training your puppy no matter what the weather is like.
For more information on how to successfully potty train a puppy in the winter check out Secrets To Dog Training Review.
Share This: