While we are thinking of bringing that cute puppy home and daydreaming about the nice long walks the two of us will be going on it just seems so picture perfect.
Your puppy has a ways to go before they will be walking nicely with you down the road. In fact you may find yourself being dragged down the road unceremoniously. It's time to be teaching your puppy not to pull on a leash when you are taking them out for a walk.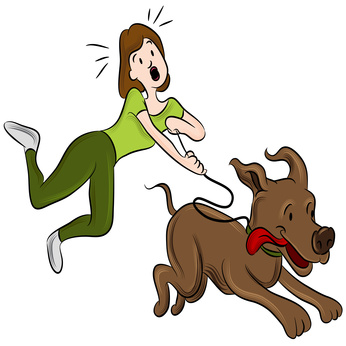 Teaching your puppy or dog proper leash manners can be a challenge. Putting a leash on your puppy definitely stops them from what comes natural to them. Some puppies want to run all over the place, other puppies want to stop and smell every blade of grass there is growing and other puppies want to pee on everything that is in their path.
One thing that is vital when you are training a puppy or a dog you need to be consistent. Let your puppy get away with a certain behaviour just once and he will remember that forever and continue to look for that slip up on your part.
There is no one set method when it comes to teaching your puppy not to pull on a leash.
To teach your puppy proper leash manners the training starts before you take them out for a walk. Some dogs get very excited the moment they spot the leash. They will tear around so much that it is almost impossible to get the leash on to take them out.
The first order of business is to calm your puppy down. Since these walks are basically going to be training sessions until your puppy masters the walk it may be a good idea to tire your puppy out a bit before going for a walk.
You should engage your puppy in some form of play that will tire him out a bit. Maybe a game of tug or maybe you can take them to the leash free park and let them run off some of that energy. A calm puppy will be more receptive to a leash than a puppy that is all hyped up.
I just want to make one point here about this training, we are not teaching our puppy to heel we will be teaching them proper leash behaviour.
Methods For Teaching Your Puppy Not To Pull On A Leash
There are a couple of methods that you can use when teaching your puppy not to pull on a leash.  In the following method we will be using treats. Make sure your treats are tasty and small. Also make sure the puppy can eat them fairly quickly.
With your dog on your left side and treats in your left hand give the command you will be using to go walk. Many people will just say "Go Walk". Every few steps you will be feeding the tasty treats to your puppy. If and when your puppy veers off to the side or goes ahead of you then stop. Call your puppy back and reward when she comes back. If you can get her to sit even better.
Repeat this exercise several times a day. Remember these walks are training sessions so you want to keep them short. Over time you will wean out the treats. When your puppy totally stops pulling on the leash you will have a very nice walking companion.
In this second method you can also use tasty soft treats. You will also need a long lead about 20 feet long. The idea here is to get the puppy to focus on you. when your puppy does learn to focus on you then she will not be pulling on her leash.
Do this exercise in a large yard or open space. Attach the lead to your puppy. Do not say anything to your puppy. You are going to be walking in a square. Without saying anything walk about 20 to 30 feet and stop. Just wait and do not say anything. Turn and walk 20 to 30 more feet. Stop and wait. Repeat this action. At first your puppy will not have a clue as to what is going on but as time goes on when you stop he will come over to you. When he does reward him.
This method will use some a form of punishment. When you are walking in one direction and your puppy is going in the other direction and she will feel a tug on the leash as you grow farther apart. She will learn quite quickly that the safest place to be is near you.
Make sure whenever you are using a leash for training that you are not using a flexi leash.
These are just a couple of methods that you can try to get your puppy to focus on you and stop pulling on the leash.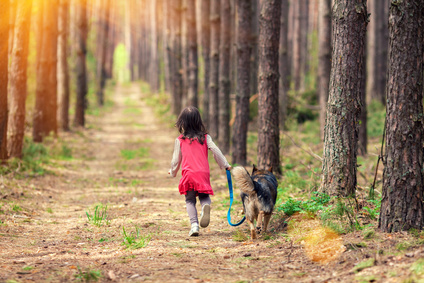 Remember training your puppy takes time and lots of patience. Try and make your training sessions with your puppy an enjoyable experience and try to end them on a good note.
With time and patience your puppy will become a good canine citizen.  For more information on how you can train your dog not to pull on the leash check out this video by Doggy Dan
Share This: