Well here we go again another problem that many dog owners have. They want to find ways to stop dogs from digging. Now you are going to see a common thread when we approach any behavioural problem we have with our four-legged buddies. The common thread is for every issue we have with our dog's behaviour we need to find out the cause of the problem before we find a solution to it.
Just as we looked for a solution to stop our dog from barking by first finding out why he/she was barking we now must find out why is our dog digging.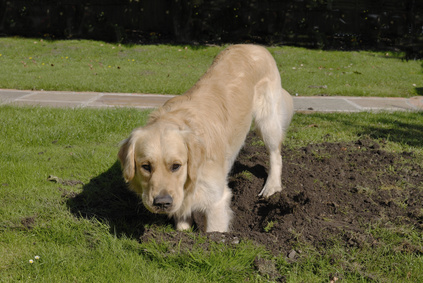 Reasons Our Dogs Dig
• Entertainment
• After prey
• Trying to escape
• Looking for attention
• Comfort
• Hiding valued items i.e. bones
• To get at edible roots etc
If your dog digs for entertainment you are going to probably need to spend more quality time with your dog. Take him for walks and maybe get him into some energy draining activities.
The above can also apply if your dog is looking for attention. What you can do also is make a dig zone for your dog. Set it up like a big sandbox for your dog. It might be a good idea to bury some of his favourite treats in his new digging area. This will peek his interest. Now you will need to train him to dig only in this area and the treats are a good start.
When you catch him digging elsewhere you will need to redirect him to the dig zone. There are items you can purchase that will discourage your dog from digging in certain areas. Some of these items are motion activated and can sound a loud unpleasant alarm or spray the dog with a hose. Other items such as an  electronic dog repellent are controlled by you so you need to have an eye on your dog when he is in the yard.
Other deterrents can be as simple as a spray which you would use where you do not want your dog to dig.
If your dog is looking for comfort then maybe build him a dog house. Locate the dog house so it will keep him warm in the winter and cool in the summer. If your dog likes to bury themselves make sure they have lots of old blankets to snuggle into.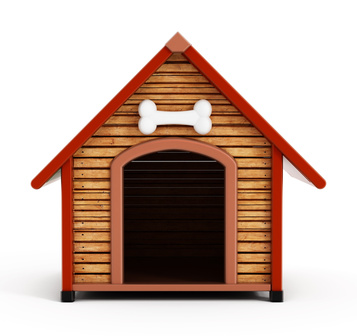 If your dog is digging to escape you may need to take some drastic measures by running an electric fence.  You can get what is called the invisible fence which actually runs under the ground.  This is where the dog wears a collar and when he gets too close to the fence he will get a warning first then a mild shock. Your dog will need to be trained so he knows where his boundary is.
For more tips on how to stop your dog from digging check out The Secrets To Dog Training Review.
Share This: