One of the most feared bad dog behaviour is dog aggression. It is also the number one reason why pet owners seek the help of professionals.
Types of Dog Aggression
Dominant
Defensive
Possessive
Territorial
Parental
Plus others
A dog can exhibit more than one type of aggression.  So when dealing with dog aggression it is paramount to know what type of aggression you are dealing with.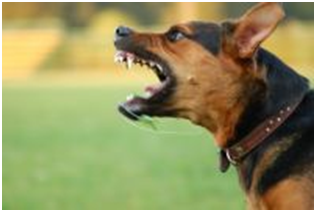 What a pet owner wants to do is to prevent any aggression in their dog whatsoever and this would start when your dog is just a puppy. If your puppy is trained right from the beginning and knows his place in the pack then usually you will not have an issue with aggression. They may sometimes challenge for a higher position but as the pack leader you need to know how to control your pack.
Some dogs may challenge more than others so another aspect to look at when talking about dog aggression is you need to make sure you are getting the right dog for you.
If you are a mild laid back sort of person then a Rottweiler or even an Akita would not be a good fit for you and they would also not be a good fit for a person looking for a tough aggressive dog.
A breeder can certainly help to see what breed is right for you.
So now that you have your puppy the training beginnings. Whether your breed of choice has been a German Shepherd or a Yorkie how you bring them up could bring about aggressive tendencies.
Puppies are a lot of fun and sometimes they can get carried away when playing and we also can get carried away by rough housing with them. When they are small it all seems so innocent – a little fur ball growling, snapping and lunging at us and we in turn putting them down on their back maybe sliding them on the floor. Go ahead about 3 months and especially if you have a large breed puppy, this game may not be so fun and you will not be able to control your once small puppy.
Preventing Dog Aggression
Things you can do to prevent dog aggression down the road are play and handle your puppy gently, have all family members at one time hand feed making sure puppy does not snatch and run. Do not physically punish a puppy for aggressive behaviour. There are other ways to discipline the puppy. If your puppy becomes aggressive during play tell him no, turn your back on him and walk away.
There are many other things that you can do to help your puppy become a good canine citizen and not ever show any signs of aggression. It is much easier to deal with this issue now before it does become an issue.
If you have adopted an older dog and they do have aggression issues there are still things you can do to overcome them. The first thing you are going to need is the help of a professional. You need a professional who is going to use the least amount of force. Many so called dog trainers will use excessive force and punishment to correct aggressive dogs.
Although with the proper training an
aggressive dog
can be retrained many believe the dog can never be one hundred percent trustworthy and could attacked if provoked.  Check out my
review on The Online Dog Trainer
it may lead you to what you are looking for.
Share This: